Qioptiq Introduces inspec.x HR 2.4/128 3.33x Lens
New Lens Delivers Extreme, High-Resolution Imaging for Machine Vision, Semiconductor and Quality Control Applications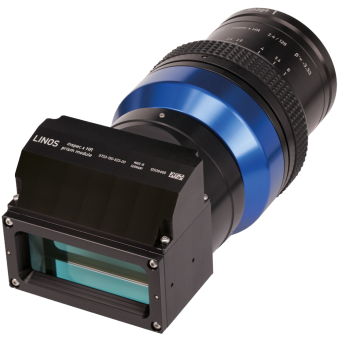 New inspec.x HR 2.4/128 3.33x Lens
Qioptiq, an Excelitas Technologies®Company and global technology leader in delivering innovative optical and photonic solutions, introduces its inspec.x HR 2.4/128 3.33x Lens. Developed to achieve object resolution up to 300 Lp/mm for use in the machine vision, semiconductor and quality control industries, the new HR 2.4/128 3.33x Lens is optimized for a magnification factor of 3.33x and supports sensors up to 82mm in length.
Featuring an f/2.4 aperture, the inspec.x HR 2.4/128 3.33x Lens maintains outstanding imaging quality with high-intensity light throughput. It also achieves extremely low distortion of less than 0.1% across the entire image circle. The HR 2.4/128 3.33x's spectral range of 400nm-750nm is precisely suited for use with modern, high-resolution 12k and 16k line cameras supporting 3.5 µm and 5µm sensors.
The inspec.x HR 2.4/128 3.33x Lens features a novel diffraction-limited optical design and a focal length of 128mm. It can be equipped with a prism module for coaxial illumination as well as a mechanical tube to adapt the lens to M72, M90 and M95 camera mounts. The iris diaphragm is manual and lockable.
"We are pleased to introduce the new inspec.x HR 2.4/128 3.33x as the latest addition to our popular inspec.x Lens Series," said Arthur Stauder, Application Engineer at Excelitas Technologies. "The HR 2.4/128 3.33x Lens' ability to deliver outstanding imaging quality across the entire image circle, with a very high light throughput, makes it an ideal solution for the inspection of flat panel displays, OLEDs displays, wafers or glass and many other automated optical inspection applications."
The inspec.x HR 2.4/128 3.33x will make its debut at Control 2019, May 7 – 10, 2019 in Stuttgart, Germany. Visit the Qioptiq booth, located in Exhibition Hall 6 - Booth 6401, to learn more.
About Excelitas Technologies
Excelitas Technologies® Corp. is a global technology leader focused on delivering innovative, high-performance, market-driven photonic solutions to meet the lighting, optronics, detection and optical technology needs of global customers. Serving a vast array of applications across biomedical, scientific, safety, security, consumer products, semiconductor, industrial manufacturing, defense and aerospace sectors, Excelitas Technologies stands committed to enabling our customers' success in their end-markets. Excelitas Technologies has approximately 6,700 employees in North America, Europe and Asia, serving customers across the world. Connect with Excelitas on Facebook, LinkedIn and Twitter.
About Qioptiq
Qioptiq designs and manufactures photonic products and solutions that serve a wide range of markets and applications in the areas of medical and life sciences, industrial manufacturing, defense and aerospace, and research and development. Qioptiq benefits from having integrated the knowledge and experience of Avimo, Gsänger, LINOS, Optem, Pilkington, Point Source, Rodenstock, Spindler & Hoyer and others. 
Contacts:
Scott Orr
Senior Director of Global Marketing - Commercial
[email protected]
(+1) 781-996-5925
 
Cheryl Reynhout or Jill Anderson
On Behalf of Excelitas Technologies Corp.
SVM Public Relations
[email protected]
(+1) 401-490-9700