Qioptiq Introduces New HD High Operating Temperature (HOT) CheetIR-L Mid-Wave Infrared Camera
Thermal Camera Delivers High Performance for Long-Range Performance Military and Security Applications
St. Asaph, UK., April 15, 2019 – Qioptiq, an Excelitas Technologies® Company and global technology leader in delivering innovative optical and photonic solutions, has launched its latest thermal camera, the High Definition (HD) mid-wave infrared (MWIR) camera – CheetIR-L. The new camera delivers on the ethos of providing class-leading, high-performance optical solutions for military and security applications. The camera marries the latest HD High Operating Temperature (HOT) IR core technology with high-performance custom designed optics to provide a camera, which delivers exceptional imaging performance in demanding environments.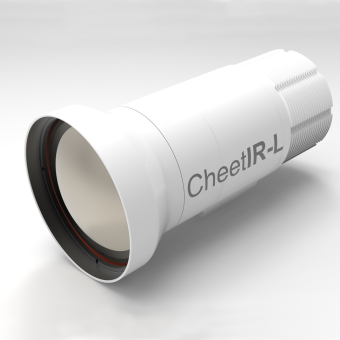 CheetIR-L Mid-Wave Infrared Camera
CheetIR-L provides HD digital video output in 720p format utilizing an SXGA 10µm pixel pitch detector format. When comparing this camera to current VGA standard alternatives, it provides 3x the resolution, providing clearer imagery and longer range to detect, recognize and identify targets sooner, further out. Typically, a 2.3m x 2.3m target can be detected at approx. 40km with a man size target being detectable at over 18km.
CheetIR-L can be used as a standalone long-range surveillance camera or can be integrated in to other EO platforms including Counter UAS systems, Remote Weapon Stations or PTZ platforms to name a few. The camera benefits from a fast aperture F/3 construction incorporating a continuous zoom mechanism providing 13.5x optical zoom with 30mm to 410m focal length, allowing for eyes on tracking through the full zoom range.
Thanks to the HOT IR core used within CheetIR-L, Excelitas Qioptiq quote MTBF figures >16,000, which is superior to many of the current cooled systems within the market who often quote in the region of >8,000 hours.
CheetIR-L is the latest in the range of high-performance thermal cameras from Excelitas Qioptiq that comprises HOT MWIR and uncooled LWIR cameras.
For additional information on the CheetIR-L or the full range of Excelitas Qioptiq products, visit Booth 438 at SPIE Defense + Commercial Sensing, April 16 – 18, 2019 in Baltimore, MD.
About Excelitas Technologies
Excelitas Technologies Corp. is a global technology leader focused on delivering innovative, high-performance, market-driven photonic solutions to meet the lighting, optronics, detection and optical technology needs of global customers. Serving a vast array of applications across biomedical, scientific, safety, security, consumer products, semiconductor, industrial manufacturing, defense and aerospace sectors, Excelitas Technologies stands committed to enabling our customers' success in their end markets. Excelitas Technologies now has approximately 6,700 employees in North America, Europe and Asia, serving customers across the world. Connect with Excelitas on Facebook, LinkedIn and Twitter.
About Qioptiq
Qioptiq, an Excelitas Technologies company, designs and manufactures photonic products and solutions that serve a wide range of markets and applications in the areas of medical and life sciences, industrial manufacturing, defense and aerospace, and research and development. Qioptiq benefits from having integrated the knowledge and experience of Avimo, Gsänger, LINOS, Optem, Pilkington, Point Source, Rodenstock, Spindler & Hoyer and others. 
Contacts:
Craig Taylor
Head of Marketing Communications, Defense & Aerospace, Excelitas Qioptiq
Glascoed Road, St. Asaph, Denbighshire, LL17 0LL, United Kingdom
[email protected]
Mobile: (+44) 7827-831519 | Office: (+44) 1745-588002
Cheryl Reynhout or Jill Anderson
on Behalf of Excelitas Technologies Corp.
SVM Public Relations
[email protected]
(+1) 401-490-9700
Excelitas® is a registered trademark of Excelitas Technologies Corp. All other products and services are either trademarks or registered trademarks of their respective owners.