Qioptiq Ltd. an Excelitas Technologies Company, Wins Aviation Week Program Excellence Awards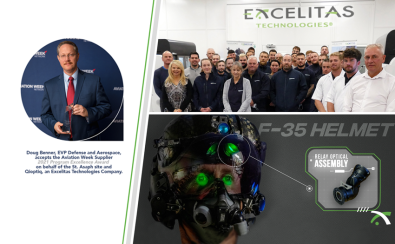 Excelitas Technologies is pleased to announce that the Helmet Mounted Display (HMD) Team from our UK subsidiary, Qioptiq Ltd. has been recognized in the annual Aviation Week Program Excellence Awards. Honoring excellence in program leadership, Qioptiq was chosen as the winner of the Supplier System Production category, for the production ramp of its relay optical assembly for the F-35 Joint Strike Fighter helmet.
Excelitas' Advanced Optronics Avionics Team represents 'best in class' in terms of meeting the needs of customers, creating value and delivering solutions to the most complex display challenges across the aerospace and defense industry. With over 50 years of experience in the design and manufacture of avionic displays, our customers rely on Excelitas to provide innovative, high-performance display optics for the most demanding head-up display and helmet-mounted display optics applications.
From production, design & process engineering and business teams in all areas of the plant – everyone had a part to play in delivering this achievement during an exceptionally challenging year. Excelitas congratulates the entire St. Asaph Team, for winning an Aviation Week Program Excellence Award.
Find out more here.