Protecting you and safeguarding our environment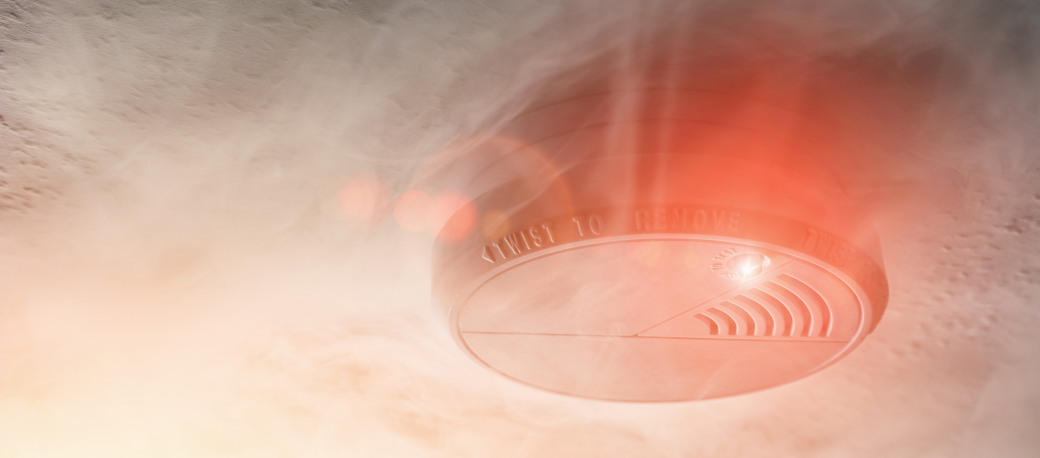 Excelitas Technologies Detection and Lighting technologies play a vital role in ensuring our safety and protecting us against hazardous threats, home intruders, harsh environments, or heavily mechanized surroundings.
Excelitas has a long history of supplying detection solutions into smoke alarm applications. Our classic large area photodiodes such as the VTP1188SH are still used today in various legacy designs and continue to meet enhanced regulations. From these decade-old solutions, we have moved into optic block assemblies where both an emitter and a photodetector are inserted into a plastic housing. This assembly provides very well-defined spacing and angular placement of both components, leading to very repeatable measurements from module to module. Using such a module also offers the benefit of having a calibrated emitter or detector pair with readings that can be correlated to performance under smoke conditions, which leads to very high yields in module assemblies and avoids yield loss associated with buying the emitter and detector individually and then pairing them.  
For customers looking for higher levels of integration, Excelitas also offers smoke chambers that enable the collection of smoke particles. When paired with the optics block, this provides a complete optical assembly that can be incorporated into smoke alarms and paired with readout integrated circuits (ROICs).
In various countries, radon gas is becoming a major subject of concern for home owners. Excelitas can supply photodiodes that are very efficient in detecting such radiation for any OEM looking to develop their own detection system. These detectors are supplied as bare chips for maximum efficiency in detecting the particles of interest.
Excelitas IR Thermopiles, more specifically multi-pixel sensors, when integrated with a smoke detector, help to detect hot spots in a room. An emerging application is thermopile arrays combined with a surveillance camera to detect indoor or outdoor fires. Similarly, these sensors are also used in cooking ranges to monitor oven temperature and provide overheating protection.
Our PyroDetectors are used for human motion detection in a number of applications, including home security, burglar alarms, safety lighting, motion-activated security cameras and garage doors. A Pyrodetector consists of two compensating elements, only one of which must be irradiated by human body radiation for human motion detection to generate a signal. Pyroelectric sensors are placed behind optical components such as mirrors or multi-faceted Fresnel lens. Traditional pyrodetectors are analog detectors. Excelitas was first in the industry to introduce digital technology to pyroelectric detectors with its DigiPyro® family. Our DigiPyro detectors incorporate a high resolution analog-to-digital converter (ADC) to provide a direct analog-to-digital conversion. No further amplification is required and electro-magnetic interference (EMI) is significantly less severe.
Environmental analysis is of great importance in today's world with significant impact on health, environmental and socioeconomic factors. Various detection methods can be used to detect smoke and gaseous emissions, from classic optoelectronic reflection methods to gas sensing using the infrared (IR) absorption method. Excelitas has the IR absorption technology expertise and range of optoelectronics components to detect smoke and deleterious gas levels. Our detectors and sensors are playing a vital role in making our environment safer, more secure and healthier.
A safety-first mentality helps prevent accidents in our everyday lives. In work areas where dangerous machinery is being operated, extra measures need to be taken to ensure the safety of employees. A photonics-based safety measure is laser scanning, which pairs an emitter and detector to create an invisible light curtain around a defined perimeter that requires monitoring. Anyone entering this space will have an effect upon the detector signal which could result in a machine shut-down or alarm. Excelitas offers both the emitter and detector products as well as the expertise needed to successfully develop such scanners with shortened time-to-market.
Environmental analytics is a comprehensive approach to minimizing potential workplace health hazards – those caused by workplace conditions, materials or machinery. It allows us to assess the quality of our water, our air – both ambient and indoor, our food, and our soils to assay whether there are threats to our health and safety – and the well-being of our families. Excelitas offers Low-Light-Level (LLL) Detectors that are used in the instruments that perform environmental testing and analysis such as particle sizing and counting in smokestacks to ensure emission levels are kept safe. Our LLL detectors are also designed into wind LiDARs to monitor atmospheric pollutants from the ground where information is used to shut down certain operations such as open-cast mining when the wind sends dust towards population centers, thus, creating a healthier and safer environment.
Effective safety lighting is an essential component to protecting our well-being and helping save lives. Excelitas manufactures customized LED modules with the power, spectrum and packaging that meets critical application requirements in challenging environments. Our in-house expertise in optics design, thermal management, mechanical design, electrical design, testing, prototyping, and application knowledge make us a leader in many applications.
Obstruction lighting
Airfield lighting
Aerospace lighting
Thermal infrared
Hazardous area lighting
Marine navigation lighting
While we have various standard offerings for safety system applications, we also offer customization to meet your specific needs. Please contact us to learn more about how we can help reduce your time-to-market.