Enabling the future of surgery today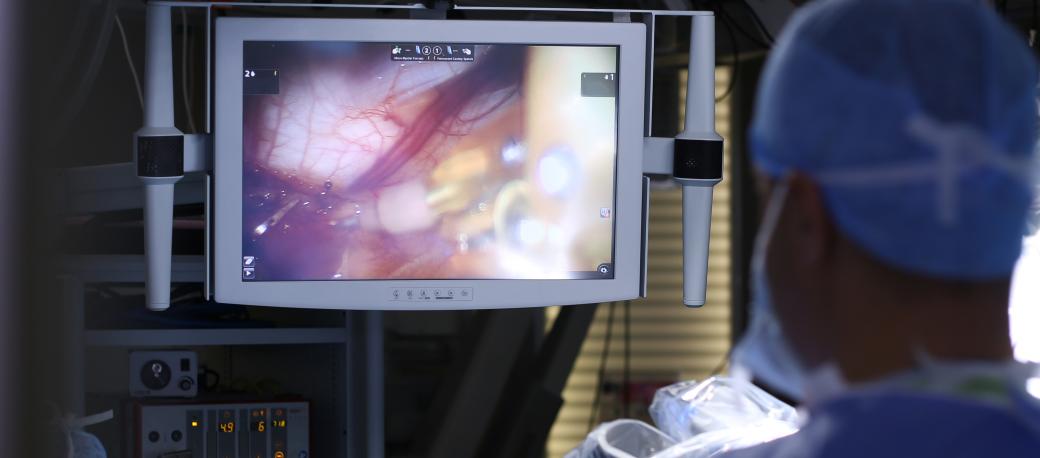 From surgical microscope eyepieces to complete motorized zoom high-resolution videoscopes with fluorescence imaging capability, Excelitas is at the forefront of surgical visualization. We bring the full range of our illumination, optical and detection technologies to bear in developing and delivering easily integrated turnkey photonic solutions for your surgical imaging and visualization systems. 
Our broad range of lamp-based and LED light sources provide medical OEMs with highly tuned CRI, intensity and color matching performance, as well as hybrid laser integration. Our optical capabilities and complex mechanical system integration is ideal for both exo- and endo-surgical field imaging systems. When faced with detecting minute tissue excitation, our photon detection modules offer exceptional sensitivity and precision.
Excelitas offers a wide range of technologies and capabilities for surgical theater lighting solutions. Customers can engage us for discrete LED components, modules and sub-assemblies, or complete light source systems. We excel at delivering surgical lighting of all types, from headlamps to overhead surgical and exam lighting that match the unique requirements of our customers. With Excelitas, you get perfect illumination for viewing the true colors of tissues and vasculature in the surgical field, ensuring accurate analysis and treatment.
Surgeons today demand a more flexible beam delivery system to bring laser energy into their hands. In laser surgery, specific optical systems able to properly focus a laser beam onto tissue with the focal intensity necessary for the intended treatment are required. No matter what delivery mode, beam type or wavelength your treatment requires, Excelitas experts can build your flexible laser surgical instrument leveraging our optical solutions and flexible laser technology.
Areas of Expertise:
Surgical robotics, navigation and microscopy
Diagnostic tissue evaluation and cancer detection
Vascular surgery and laproscopy
Multi-wavelength and three-dimensional imaging
Cranial and neurosurgical systems
Surgical suite lighting
Surgical headlamps
Near-field displays
Laser surgery instrumentation